We are the 21st Century Consort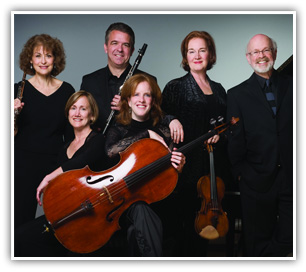 Founded in 1975 as the 20th Century Consort, the group became the resident ensemble for contemporary music at the Smithsonian Institution in 1978. In its annual series at the Smithsonian American Art Museum, the Consort presents finely balanced concerts frequently related to the museum's exhibitions, featuring music by living composers - often world premieres - along with 20th century classics. In 1990, the Consort was awarded the Smithsonian Institution's Smithson Medal in honor of their long, successful association.
Under the direction of its founder and conductor, Christopher Kendall, the Consort's artists include principal players from the National Symphony Orchestra, along with other prominent chamber musicians from Washington, D.C. and elsewhere.
For over thirty years live concerts by the 20th/21st Century Consort have been professionally recorded. In 1995 the Consort initiated a project to create a permanent archive of these recordings. In May 2009 24 seasons, 111 concerts, 397 compositions by 179 composers, in 453 performances were presented for permanent preservation to the Michelle Smith Performing Arts Library of the University of Maryland. The physical media included 557 DVDs and CDs. More will be added soon.
Thanks to a grant from the National Endowment for the Arts you can listen to any of these recordings, today, here, free. You can read the printed programs for each concert and experience what happened on that day and in that place. If you visit our archive page and register you can search the entire archive and listen to any concert, composition, or composer.